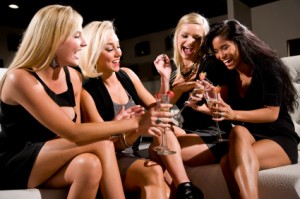 So, you are in charge of the bachelorette party, or maybe you are a bride looking for some ideas to suggest to you maid of honor. Here are some fun and creative Bachelorette party ideas:
Cooking class: Safe except for the calories you will be consuming, a cooking class is a fun, entertaining and educational way to enjoy your last days as a single foodie.
Spa Day: Relaxing and enjoyable for everyone, a spa day is a choice certain to please. The bride has been working non-stop to put together every detail of her special day and will no doubt appreciate a day off to relax and get pampered.
Old School Sleepover: Fun way to bond with the girls, you can put together an old-fashioned sleepover with a fun theme like silly pajamas or costumes.
Fondue Party: Delicious! Little bits of food covered in cheese or chocolate, need I say more?
Themes (80's, Ugly dresses, etc): With a big group of fun girls who want to participate, a theme night can be a blast. Eighties night is a rockin' choice that comes with its own theme music and fairly easy to find outfits.
Casino: BINGO! With food, drinks, and entertainment all in one place (bring your dauber) the casino is a fun place for a girls evening.
Scavenger Hunt: How wild and silly you get depends on the items you put on your scavenger hunt. This is a great activity if you have enough girls for teams.
Dance Lessons/ Belly Dancing: Let loose some dance moves, and get some exercise.  This is an excellent choice for a young energetic group, and you can even hire someone to come teach the lesson at your house.
Concert: Dancing and singing the night away at a concert is a great and memorable way to celebrate a bachelorette party.
Karaoke: For the songstress bachelorette party, a night of karaoke may be in order.  Entertainment, food, and drinks in one place are a plus.
Wine Tasting: For the wine connoisseur, renting a limo and doing a little wine tasting might be a great choice.  Rent a limo and be sure to bring lots of water and snacks for the trips between stops.
Dinner and Dancing: It's a classic! You can't go wrong with dinner at the bride's favorite restaurant and dancing to follow.