How to Perform a Mormon Wedding
A wedding is a very special time for the bride and groom, as well as for their families. The union of two people and two lives can be an exciting time of life, but it can also be intimidating when thinking of all the details that go into planning a wedding. There are so many different traditions and rituals it can be difficult to know which ones to incorporate and which to exclude. A Mormon wedding is particularly different from the average wedding of today. Here are some insights as to how to perform a Mormon wedding.
Pre-marital Steps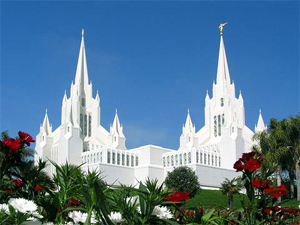 The first step that takes place as soon as a couple is engaged is to meet with the couple's Bishop. The Bishop is a religious leader that gives insight to the couple as he consults with them about their wedding day. He interviews them both for worthiness, and offers counsel and guidance about marriage.
If both the bride and the groom are members of the LDS church and are found to be in good standing, meaning they strive to keep of the commandments and follow church guidelines, they are able to be married for time and all eternity in the temple of the Lord. The sacred temple marriage ceremony is not discussed outside the temple. Family and friends who are also members of the church in good standing are permitted to attend. However, those who are not members of the Mormon church, or are not in good standing cannot attend. Couples who aren't able to be married in the temple can be married in a local meetinghouse. All relatives can attend a Mormon wedding that is performed in a meetinghouse. A temple marriage is considered one of highest unions a couple can enter into and as such, is much preferred over a civil marriage performed in a meetinghouse. According to Mormon faith, a temple marriage lasts throughout eternity, and a civil ceremony lasts only until death.
Ceremony
The Mormon wedding ceremony that takes place in a local meetinghouse is very similar to other wedding ceremonies of today. Mormon weddings are usually presided over by the Bishop, with the Bishop performing the marriage. These weddings consist of all of the typical wedding traditions, including the bride walking down the aisle, bridesmaids and groomsmen, wedding vows, 'Äòtil death do you part, and the couple's first kiss as a married couple. There are always two witnesses who participate in the wedding and sign the marriage certificate.
Attire
The women's attire at a Mormon wedding is usually more conservative than at typical weddings. The bride's wedding dress and the bridesmaid dresses are more modest. They are usually in full sleeved gowns (not sleeveless, low-cut, or strapless). The groom and groomsmen usually wear suits or tuxedos.
Reception
A Mormon wedding reception is typically less formal than most wedding receptions. Receptions usually take place in a church recreation room and are not as extravagant and expensive as other receptions of today. They are usually not black tie, and typically have families with children attending. Also, most do not require an RSVP. Many people are invited, and most reception guest counts are planned on estimates. Mormon wedding receptions typically do not have a formal dinner, but have the food and refreshments served buffet style, with attendees coming and going throughout the evening. There is usually dancing and a lot of celebration at Mormon weddings. One major difference between Mormon weddings and other weddings is that there is no alcohol to be found.
The structure and traditions of Mormon weddings are very different from other weddings, but they are also very similar. All weddings, no matter what religion, are for the purpose of two people being joined together in love.