Honeymoons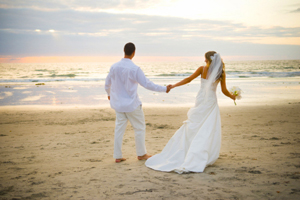 For many people, the best part of the wedding process is the honeymoon. There are many different examples of honeymoons that you could consider, but by definition a honeymoon is a trip that a newly married couple goes on to celebrate their marriage. Typically, the couple will go through the marriage ceremony, then a couple of days later, they will head off to some remote location to relax for a few days and enjoy themselves.
Many people choose to head to a warm and sunny beach location in order to honeymoon.  It could be as exotic the Caribbean, Hawaii, or even a local seaside spot if the couple decides to stay close to home.  More tropical escapes are especially desirable for those who get married in the winter, because the islands will be warm and it will give them a chance to enjoy the beauty of the ocean. Often, these folks will stay in nice suites at great resorts, while taking advantage of excellent amenities.
Another popular choice is going on some sort of extravagant trip to a location that neither person has seen before. They take this once in a lifetime opportunity for time off and celebration to travel to places they have always wanted to visit.  Couples have been known to go to African on safari trips if they are the adventurous type, and still others have chosen to go to some romantic city in Europe like Paris, Venice, or maybe even Rome.
Marriage is one of the most important moments of adult life. After all the intense months of planning and working towards the wedding day, the honeymoon is well-earned and should be one of the most wonderful parts to look forward to. If you are planning an upcoming honeymoon, then please look into our suggestions on the following pages.