Table Centerpiece Costs
The Table Centerpiece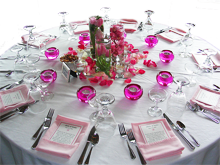 When it comes to your special day, you want everything to be just perfect, right down to the table centerpiece. These might be casual seating for a happy hour wedding reception, or formal seating for a multi-course meal.  In regards to covering the cost of this particular item, the sky really is the limit. With a creative touch DIY table centerpieces can cost as little as $10 a piece or paying a florist to construct magnificent floral arrangements can cost in to the hundreds. The price you pay depends on the theme, design, and materials you choose.
Couples looking for creative and relatively inexpensive table centerpiece options should consider using mirrors, glass, fruit, water, candles or any combinations of these. The aforementioned products are relatively inexpensive and can make a stunning visual impact. One example is a round mirror 10 inches in diameter laying flat in the center of the table with a glass vase filled with pears and surrounded by tea-light candles. Everything you put on the mirror will be reflected for twice the decadent and extravagant feeling at half the cost!   Recently becoming a popular table centerpiece are small 12-inch lanterns with candles inside will run on the lower priced end of the scale at a cost of around $6 to $10 per piece, not including any floral design you may decide to put with it. Although attractive enough on their own, adding floral accents at a cost of about $10 per piece may be a nice addition while still keeping costs low.
Working your way up the scale, there are many choices available. Glass bowls filled with floating candles and flowers range from $25 to $50 and offer a strikingly romantic flare. Larger pieces with flowers, crystals and height to them, much like a candelabra, can cost anywhere from $100 to $300 per table centerpiece.