Our Branson Honeymoon
A honeymoon from hustle & bustle to eclectic & cool…
My husband and I live in a metropolitan area. Every day, we are surrounded by the noise of traffic and the hub that becomes a familiar drone to a city dweller. For our honeymoon, we wanted something of a quiet atmosphere, but also some place that would give us opportunities to do things together and to enjoy some nightlife. Both of us grew up in Florida so neither of us had an overwhelming desire to spend lazy days on the beach. We also needed to keep our honeymoon somewhat affordable because we were in the process of purchasing our first house and had a sizeable down payment to make. After weeks of searching for some place to take our honeymoon within the United States, we found ourselves being pulled back to brochures on Branson, Missouri.
Branson, Missouri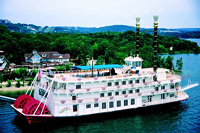 What first drew our attention to Branson was the vast amount of things to do. From major comedy tours to eclectic singing theatres, we grew more interested by the day. When we read over the articles and pamphlets on Silver Dollar City, we knew this was the place we wanted to spend our honeymoon! We loved our honeymoon in Branson so much that we now have set a goal to return their every year for our anniversary!
Located in Southern Missouri, Branson gave us a view of the lush, rolling green hills of the Ozarks. This was a welcome retreat from the concrete walls of the city! The first day, we rented a house boat and spent a leisurely day sipping margaritas and sitting on the deck of the boat. We had ordered a picnic lunch from a local Italian bistro and we enjoyed the superb sandwiches prepared for us as we lazed away the day on the boat. That evening, we went to a sight and sound theater in Branson and we were blown away by the massive display and performance we seen!
Silver Dollar City Theme Park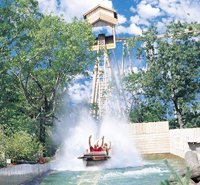 We spent the next two days of our honeymoon exploring Silver Dollar City. An old fashioned theme park combined with arts and crafts and rugged living of the Ozark people, Silver Dollar City was quite an experience for us city people! We took the old-time photos of him packing a bayonet and I was dressed a bit provocatively in a daring dress with a garter high on my thigh. We later sent these pictures out to our family and friends with the caption "Had a great time on our honeymoon!" I'm sure we surprised some folks but that was the intention! During our visit to Silver Dollar City, we both took a weaving class and a sculpting class. The classes were held outdoors and the soft Missouri breeze of June floated over us as we worked side by side to learn our new craft. I kept stealing glances at my husband and thinking how lucky I was to have someone like him!
Ozarks Adventure
The last day of our honeymoon, we rode along the Ozark trails on horseback in the morning and for the afternoon; we rented a canoe and floated downstream on a lazy river for three hours. We came back to our hotel and were grateful for the thick, lush bed because our bodies were aching from riding the horses that morning! After a long, romantic night spent in the hotel lounge sipping champagne and eating delectable appetizers, we were ready to fly home the next day. We can't wait to return to Branson next year for our anniversary!