Open Bar Expenses
What you should budget for an Open Bar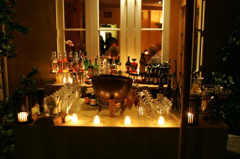 It is quite difficult to find an average when it comes to an open bar at a wedding, as "open bar" means that it allows the guests to drink as much as they like for free. Figuring cost has a lot to do with which types of alcohol you will serve and how much the wedding guests are going to drink. In addition to these factors prices will vary by region, venue, policy, and service markup.
First to consider are the number of guests and when you are going to offer drink service. Typically there may be a cocktail hour directly after the ceremony and before the reception. This is a time for the bride and groom to take pictures, and for the couple and guests to travel from the ceremony location to the reception venue if they are at different locations. Secondly there may be drink service at the reception during the meal. Finally there might be a champagne toast during the speeches from the brides father, best man, and maid of honor. These are just the traditional examples from which the bride and groom can choose some, all or make a new option. For an example, a couple with a wedding ceremony at a winery might pass out wine glasses to guests as they arrived.
Do you have a large guest list with many attendees from the drinking age bracket? Or is it a older and more reserved crowd? Ask yourselves these questions when making your drink choices. Some couples only serve wine and beer at their wedding, and some rather than offering and open bar will select a "signature drink" that is one type of cocktail with hard alcohol. Usually a signature drink is a bright, mixed drink with a fun name and the ability to be premixed in bulk.
Open bar is often the most expensive way to go. There are usually two different payment methods to an open bar. The first is to pay the caterer a certain flat rate per person attending the reception. The second route that some catering locations offer is to purchase all the beer, wine, and liquor that will be served up front. They may even let you go to the store and purchase it all yourself.  The upside of this is that you can shop around or buy in bulk to save money, and all the alcohol is paid for. The down side is that when the bar runs out of what the wedding party has ordered, everyone is cut off. For weddings where the party is going to be highly focused on the bar, the first option will likely be more expensive.
The pay per person route can vary drastically. Some catering services will charge $10-15 per person while others can cost up to $50. However, it is important to look at what kind of alcohol will be served. The lower priced plans may be serving mostly beer and cheap liquor while the more expensive services may include aged wines, top shelf spirits, and champagne. Again, choosing between the cheaper and more expensive alcohol caterers depends on many factors: how many people will be there, how much money there is to spend, and how picky people are about their alcohol.