Wedding Planning Guide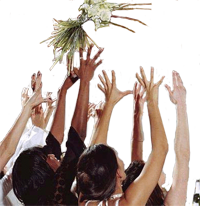 Almost every culture in the world recognizes some form of marriage, and in most cases, these marriages are solidified through a wedding ceremony. While the technical aspects of weddings differ based on culture, religion and personal preference, most weddings recognize the act bringing the two people together in a union through ordained ministers or marriage officiants. Many weddings involve an exchange of promises of commitment and responsibilities to be accepted. Another common ritual is the exchange of symbolic gifts. This exchange can be personal or family oriented and the gifts can have either monetary importance, symbolic importance, or both. A party or gathering usually follows the ceremony that includes food, dancing, songs, or prayers. Even though the traditions of cultures differ, the importance of marriage transcends any barriers.
One of the aspects of weddings that translates easily is the presentation of the bride to the groom in addition to the presentation of the couple as a united being. It is important for those marriage officiants hoping to perform a wedding that they understand the expectations of different religions and cultures so that they can adequately prepare a ceremony that pleases all parties. We have provided those looking to research the cultures and customs of different weddings with an overview of what to expect and how to prepare when performing a wedding.
Whether you are a newly ordained minister, a marriage officiant performing a new type of ceremony for the first time, or getting married yourself, here you will be able to find a wealth of information on the variety of wedding ceremonies that exist.  Feel free to borrow from these traditional options, or to compile the elements that feel right to the couple. It is important for marriage officiants to remember it is less about following a strict script that making a memorable and meaning full occasion for the couple.