Wedding Floral Cost
Wedding Floral Cost considerations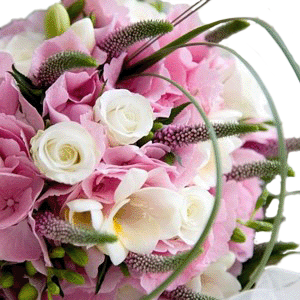 When you start planning your wedding, one of the first items that is placed on the to-do list is usually the flowers. Wedding floral cost varies depending on what you might be looking for.  If you are not interested in spending money on flowers you may only need a simple bridal bouquet for your ceremony, or if you love the look for fresh flowers you can use them for bouquets and boutineers for the entire wedding party plus floral arrangements for the isle, altar, cake, and reception.
You can begin to get a list together for the florist of the flowers to estimate your wedding floral costs.  Typically the people who will hold a bouquet are the bride and her bridesmaids. The bridesmaids will typically have a smaller, less expensive version of the bride's floral arrangement.  The Maid of Honor may have a special bouquet as well. The flower girl(s) may carry anything from a traditional basket of flower petals to sprinkle down the isle to the currently popular Victorian kissing ball style arrangement. The Groom, Groomsmen, and Ring-bearer typically all wear boutineers which are very small pin-on arrangements. Sometimes the bride and groom might include a corsage/ boutineer for their parents, grandparents, and any other guests of honor.
From these basics you may choose to add floral arrangements as isle or altar decorations, center pieces on the tables at the reception, or even as a cake topper.
After you put together a list, the second step to calculating the cost for your floral needs is to decide where to purchase your flowers. A locally owned floral shop does tend to be less expensive than a floral chain shop, but this is not always the case, and it costs can vary widely depending on your geographic location.  Another factor of wedding floral cost is going to be the types of flowers that you choose. For example an orchid is beautiful, exotic, elegant and perfect for a wedding bouquet, but also comes from a plant from a tropical climate that rarely flowers and only a few blooms appear at a time. This greatly increases the price of an orchid compared to a rose or other plants that bloom in profusion like a carnation.  It is best to talk with several florists and ask for price quotes before you decide where to place your order. Wedding floral costs for a bouquet for the bride will run anywhere from $40 for a simple, small rose bouquet up to several hundred dollars for a large elaborate calla lily filled bouquet. This description also holds true for floral arrangements used for the church ceremony or in the reception hall. The larger, more elaborate floral arrangements, especially if out of season or unique flowers are being used, can run into hundreds of dollars apiece.