How to Perform a Jedi Wedding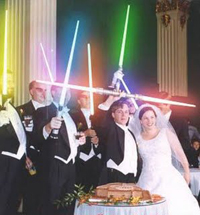 Star Wars is a cultural phenomenon that has stayed in the minds of the public for decades, with millions of fans around the world. It is no wonder, then, that some couples may choose to celebrate their special day with a Jedi wedding theme. In a galaxy not really far away, this can be achieved with careful planning.
The first step is to decide what elements to take and put into an overall theme for the jedi wedding. Should the theme be based on a specific movie, or should it rest more in the general concept? It is also important to consider whether to keep it solely within the ceremony itself, include the theme in the reception, or do both. If unable to decide, consider consulting family or friends.
Get creative with the Jedi wedding invitations. Perhaps refer to the bride as "Her Royal Highness" or "Princess", and to the groom as a "Jedi Knight", for example.  Use the star wars font or the slant of the opening crawl text for the save the dates. You can invite guests to dress in costume if they like, but make it very clear that it is not required. Some may be uncomfortable or unwilling to take part in that activity, and it saves any trouble down the line.
Because The Force plays a large part in the world of the Jedi wedding, the bride and groom should make reference to The Force and The Dark Side in their vows. Pronouncing to keep their partner safe from The Dark Side is one such example, as is promising to keep the goodness of The Force in their home always.
Music plays a vital part of any wedding, and a Jedi wedding should be no exception. The musical Star Wars scores of John Williams would complement the theme very well. Plan to have the bride enter to the main theme song for that special, dramatic touch.
As for the location of the wedding, brainstorm about your chosen theme for further ideas. You might like to keep it set in nature, symbolically declaring the presence of The Force. Or, for a more space-like atmosphere, incorporate bright, many-colored orbs. Is there a Nasa space exhibit in your area, or a space shuttle on display in a museum that can accommodate wedding parties?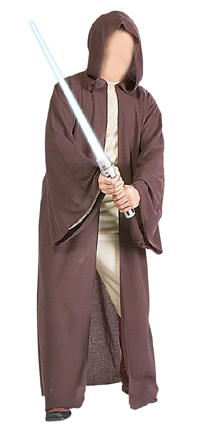 For the full Jedi wedding effect, dress the groom and groomsmen in Jedi Knight attire and plan an arch of light-sabers to walk under at the reception. To achieve this, check online or at local toy stores to find the proper props, and consult a seamstress on the wardrobe. Should the budget not allow for it, consider visiting a secondhand clothing store and assembling something yourself, keeping in mind the appropriate colors and patterns.
The perfect Jedi wedding is just around the corner, and with the right care and attention to detail, it may be unforgettable for years to come.