Wedding Ring Costs
Wedding Rings, the Overlooked Cost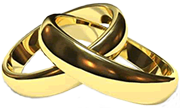 Weddings can be the high point of one's life, but oftentimes people overlook how expensive the little things are. These days, wedding rings cost anywhere from four-hundred for a basic band with a few smaller diamonds to thousands of dollars for a big diamond solitaire. Depending on what you are expecting, your ideal wedding may have to wait.
On the inexpensive end, one can expect an 8 millimeter thick 14 karat gold band ring that can cost from around four hundred to four hundred and fifty dollars, depending on the size of the finger that it is intended for. The increased value of basic gold in recent times has increase the cost of even basic bands.
Way more pricey than the aforementioned wedding ring are ones that are more intricate and are of higher quality, such as Celtic folklore bands that are made of 18 karat gold and actually tell a story in pictures around the perimeter of the ring. Although very interesting, this type of wedding ring can cost anywhere from $2,500-$3000.
So when thinking about a perfect wedding for that special someone, keep in mind that the wedding ring alone could cost more than you were expecting.