Your Wedding Cake
The wedding Cake – make it unique!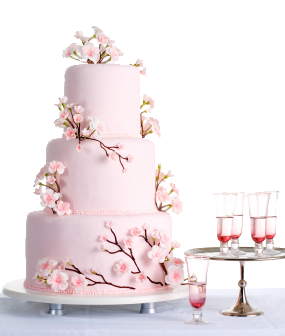 First, consider is how many people will be attending your reception and having a slice of your wedding cake.  It is common for the couple to order extra servings with the intention of keeping the top tier to freeze and eat on their first wedding anniversary. The couple should design their cake budget keeping in mind that a standard "traditional" wedding cake (two to three layers, white icing, pearls and flowers design) can start at a reasonable price of $550 for the whole cake or roughly $1.50 per slice.
Secondly, the style of the wedding cake also makes a visual impact on your celebration. You can use it to enhance the themes you are using, your setting, or the colors of your wedding party and flowers.  If you are having you wedding at a beach-side local, the cake may be light blue and decorated with frosting seashells for example.  If the couple are an adventurous outdoorsy pair, the cake might have a green hue with fern swirl patterned decorations and twig or flower topper.  The baker that creates your cake will charge you for the labor including extra additives like flowers, gold leafing and motors for movement. Keep in mind adding these small touches can make your servings cost an additional $1.00 or more per slice!
You have your wedding cake design all planned out. You know how many slices you will need, but what will the cake be made out of? Will it be chocolate cake, red velvet, carrot? Will it be filled with mousse or raspberry, be covered with nuts or fruit? These days it is customary for the bride and groom to make an appointment with several bakeries that they are considering and go in for a tasting.  Be aware some may charge a tasting fee for additional people beyond the bride and groom.  They usually will provide a plate of cake flavors and fillings for the couple to taste test and decide on.  This is the time to ask the baker all your questions, discuss customization and design details as well as pricing.
Today it is so easy to do research on bakeries in your area online.  If they are established they usually have a website with photos of their work so that the bride and groom can narrow the options down before taking time to make an appointment for the taste testing.  View pictures and samples of their work and email any other questions you might have. Bakers will usually have small "delivery charge" depending on locality of your event. Some bakeries have a delivery radius that they will deliver for free, but charge by the mile outside of that distance.  Be aware popular summer weekend days sometimes get booked well in advance, up to a year plus ahead of time for popular wedding cake bakeries.  Usually at the time that you reserve your date with the baker they will take a deposit to "save the date" and it is around 10% of the total cost. This is also when you will sign the contract and set any final details.
This is your special day, make it the most delicious it can be!