Cost of a Wedding Planner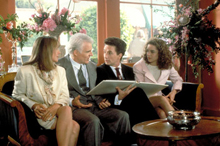 Many people declare their wedding day one of the best days of their lives. However, the months leading up to a wedding can be stressful. To help relieve some of this stress, many couples elect to hire a wedding planner to handle the majority of the wedding preparations. The cost of a wedding planner varies from $1,500 to upwards of $10,000 depending on your location, the services the wedding planner provides, etc. The cost of a wedding planner can be negotiated for some as a flat fee, and is sometimes a percentage of the total wedding budget between 10-15%. The national average cost for a wedding planner is approximately $3,200. The cost of a wedding planners in big cities are generally more than those in rural areas.
Two of the major reasons a couple might consider using the services of a wedding planner are that both partners are busy with a full time work schedule, or they are interested in a destination wedding where a specialist will be particularly helpful in navigating procedures, travel, etc. For a destination wedding, especially one at a resort, on-site help with the planning is often a necessity. Check with the hotels you are considering, as sometimes the cost of a wedding planner is including in the price of the resort stay for the couple.
Wedding planners typically offer three different levels of service, each with a different price tag. The one you chose will affect the cost of a wedding planner for your event. A planner who offers a day-of service will handle all aspects of the actual wedding day, but the couple shoulders the responsibility for all other details. This type of planner may also be there along with the wedding officiant for the wedding rehearsal. The couple is responsible for choosing things such as the wedding decorations, issuing invitations, and finding vendors. A  planner who also offers consulting services comes at a higher price, but will help a couple make preparations for the wedding in addition to organizing just the wedding day. A full-service wedding planner is the most pricey option for the cost of a wedding planner, but he or she will handle every detail of the wedding. They are involved in every aspect of the wedding preparations from finding the venues and setting up decorations, to directing the wedding day.