Wedding DJ Costs
How much should we budget for our wedding DJ?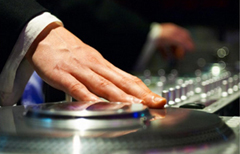 Got the venue lined up, the catering reserved, and the dress picked out? One of the next important steps in planning your wedding day is to select a wedding DJ. The wedding DJ you select is not only going to be playing the musical selections, but is also going to be acting as the MC of the event. What does that mean exactly? The wedding DJ is going to be announcing important moments throughout the event including introducing the couple when they arrive to the reception, the toasts, the first dance, the cake cutting, the flower and garter toss, and any other special events you have planned.  For this reason you will want to chose someone who is outgoing and a good speaker that feels comfortable in front of a crowd. It is worth asking friends for recommendations or reading reviews for the wedding DJ you are considering.
Costs can range from several hundred dollars to several thousand dollars, depending on services offered, area of the country, and reputation of the DJ. Most DJs provide stereo equipment, a microphone, and nonstop music starting at  $400.
Wedding DJs that range from $400 to $1000, will have all of the basic equipment along with a predictable array of music. This suits the needs of the average couple and there are many services out there who can deliver acceptable service at a comparable price. DJs will have varied musical selections,and the more established they are the more likely they are to have a large music collection. If music plays an important part in your life or you have very specific musical preferences then you will want to make sure the DJ has the songs you want. The couple may find it helpful to prepare a list of songs they want to hear played and a list of songs they do not want.  For those who demand the best in the industry, they can expect prices in the $1000 plus range for the premier service providers. These are the wedding DJs who deliver their words and timing of the events with the utmost precision and accuracy. Over the years, many details of a wedding can loose their importance, but the dress, the cake , and the song for the first dance are some of the things that the bride will never forget.