Cost of a Wedding Photographer
Cost of a Wedding Photographer: Price or Product?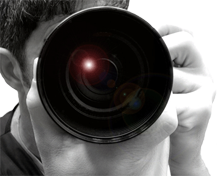 What is the cost of a wedding photographer? This is an important detail to include in the budget planning of a wedding. Start by doing a basic web search "wedding photographer" and the town were the wedding ceremony is going to take place. There will likely be many results, but how do you choose between them?  Are you looking for cheapest cost, amazing pictures at any cost, or a happy medium of the two?
A good place to start is by getting a recommendation from a friend or family who have recently tied the knot. If you consult with someone you know that has similar taste and was very happy with the photographer they selected they might be able to send you in the right direction. They can give you an basic idea of the cost of a wedding photographer.  You might consider consulting your wedding officiant who is likely a person who will know lots of wedding photographers. Also you can speak with the owners of the venue you have selected. Often they will have a list of preferred vendors who they have had a great experience working with, and some pictures on their website that you can look through for examples.
If you are looking to keep the cost of a wedding photographer within a low budget, the array of affordable prosumer cameras and lenses available today makes it possible to have amazing pictures for a lower price. Keep in mind that many photographers under $1000 are fairly new to the business – while their images may be fabulous, it is a good idea to ask for references. With the higher priced photographers, you are paying for their name, experience, customer service, product offerings, training, and dedication to their craft. There can also be much less hassle in terms of getting your photos back, rather than a lengthy delay that some newer members of the profession can experience.
As with everything in life, a low price doesn't mean you're getting a good deal – keep in mind that the higher cost of a wedding photographer may reflect the professional quality and may cost more for a reason. That is not to say that you have to pay $10,000 for quality. A good average cost of a wedding photographer is around $2,500 – $8,000 for a mid-range, professional. For that investment, you'll get as much coverage as you need, typically images on disk, albums or print credit, and possibly a complimentary bridal/ engagement photo shoot.
Things to look for when shopping for and considering the cost of a wedding photographer: experience, style of photography (traditional posed shots versus a photo-journalistic candids), speed of turn-around for the final product, and any additional services that may be bundled with their wedding services package – like an addition of a videographer, or a finished album to your specifications. Also, something to watch for when signing your agreement is who owns the images. Some photographers will attempt to own your images rather than licensing them from you. This means that you cannot use them in the future or reprint them without the express consent of the photographer. Read the contract carefully.