Wedding Favor Inspiration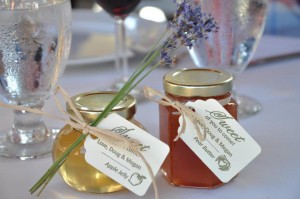 It is common practice for the bride and groom to give a gift to their guests during or at the end of the wedding reception.  It is a party favor as well as a token of thanks for joining in the celebration of their special day. These items range from small candies to elaborate personalized mementos based on the budget and wishes of the couple.  As a budget friendly tip, you can use the wedding favor to do double duty on the table as decoration. Here are some fun favor ideas to offer some wedding inspiration:
Bubbles Wedding Favor: Offer little jars of bubbles with a label of the couples monogram, date, and a thank you message. Because most places no longer allow the guests to throw rice or bird seed for the send-off, bubbles are a clean and environmentally friendly alternative.
Tea/ Coffee Wedding Favor: Offer a designer tea or coffee selection, or a flavor chosen by the couple.  Personalize with a monogram or a sign with the couple's new last name and a sign that says "The Perfect Blend".
Honey Wedding Favor: Great for farm weddings, this is a sweet treat to send off your guests. You can usually find a local honey blend these days at farmer's markets or online. You might even ask them to bottle the honey in a cute jar of your choice. Add a personalized tag with the couple's names, a thank you, and "Love is Sweet".
Jam Wedding Favor: Small homemade jars of jam are a delicious and personalized gift to give your guests. We recently attended a wedding at an organic apple orchard where the couple gifted their guests a jar of award-winning apple jelly.  Add a cute tag affixed with the saying "Spread the Love" and thank you message tied with ribbon.
Truffles in Gift Boxes Wedding Favor: These are beautiful on the reception tables as they are very easily customizable with the wedding colors. You can select the boxes and the ribbons to coordinate perfectly with the rest of the wedding décor. Additionally, the guests with have a sweet that they can enjoy any time throughout the night and don't necessarily have to tote it home with them.
Candy in Tins Wedding Favor: The clear topped tins are a nice option filled with a smaller colorful candy. M&Ms or jelly beans are great because the offer such a variety of colors to compliments your theme.  They also look great as additional decorations on the reception tables.
Potted Herbs Wedding Favor: Excellent for a table centerpiece as well as a favor, potted herbs smell and look great! They are edible, beautiful, and will last for a long time after the wedding. Choose a plant that goes well with your theme or that you like the smell of. Some great hardy perennial options for this are lavender, rosemary, thyme, sage, or mint.
Ornament Wedding Favor: Especially a great idea for a holiday themed wedding, an ornament will be a favor that your guests can keep for years.  While candy and jam are sweet and delicious, they are also perishable and are gone after your guests enjoy them once. It is nice to offer something that will be a more permanent token of thanks.
Donation as a Wedding Favor: If you are a more eco/environmentally friendly couple you may consider making a donation in honor of your guests to a cause that is important to you. When you consider that a wedding favor may run on the up side of 10$ per guest in some cases, that can add up to a decent sum of money. Some couples are choosing to instead have a sign posted, or a note at each place setting that says "a donation has been made to (insert charity of your choice) in your honor".