Muslim Wedding Officiants
Unique Wedding Ideas for Muslim Traditions
Creating a unique Muslim wedding will require additional details for the wedding officiant. Besides the specific traditional details, unique wedding ideas are still a vital part of the ceremony so as to set the wedding apart for the couple. These unique details will inspire memories for the couple and their families. The ULC (Universal Life Church) has generated information and ideas to inspire a ceremony for this special day.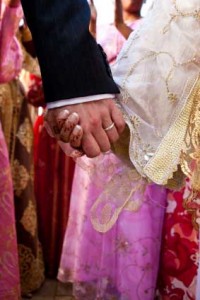 There are many factors to consider. For example, Muslim dietary requirements must be considered for the reception or refreshment table. Pork products even as an ingredient are forbidden. Alcohol is another forbidden item for the ceremony or reception. As this is a common part of many wedding receptions, it will need to be discussed if the woman's family is not of the Muslim faith.
In addition to the marriage license, the wedding officiant will need to inquire if a meher will be a part of the ritual. In a Muslim wedding with a meher, there is a mandatory price of money or possessions that the groom pays to the bride at the time of marriage. The couple may or may not choose to include this as a part of their ceremony but the payment takes place at the time of the wedding. The couple will need to define what role each participant of the wedding will need to have to complete their ceremony.
Another consideration is the faith of the couple. As religious views are passed down the male side of the family, this is an important aspect. A man may marry a woman of the Christian or Jewish faith but no other faiths are allowed. However, a woman may not marry out of the Islamic faith. Her fiancee would need to convert to Islam prior to the marriage.
Another factor is when the marriage will be held. It is considered highly inappropriate for a  marriages to be held during Ramadan. This is a holy month for those of the Islamic faith. These holy days should be discussed between the couple and with the wedding officiant.
A Muslim wedding does not have to be held in a mosque. An ordained ULC minister can officiate this wedding if there is no Islamic officiant available. The unique wedding ideas available at ULC will help with many of these small but pertinent details.