Fall Wedding Inspiration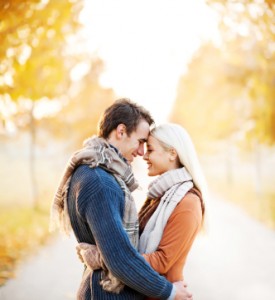 Looking for some great fall wedding inspiration? It is a beautiful time of year to tie the knot! The air is crisp the leaves are turning their bright autumnal hues and nature is putting on a fantastic display. Whether outside, or inside, a wedding ceremony this time of year is accentuated by the natural beauty of the landscape.  There are many great ways to incorporate this into your wedding theme and wedding decorations.
First things first, let's talk invitations. For a fall wedding you can choose a paper to reflect the colors of the season or accent your invites with some of the classic symbols. Any of the colors in the browns, rusts, yellows, oranges, or burnt to bright reds are all invocative of autumn. Gold is also a great accent color for fall. Use a classic symbol of fall like a tree, a leaf pattern, or pumpkins for your seal.
Once you have your colors chosen you can use these to help you make choices on your bridesmaid's dresses and decorations.  This time of year is great to save money on do it yourself projects because a lot of the materials you might want to use are relatively inexpensive. Think of all the great drama and sculptural quality of a pumpkin as a table centerpiece! You can paint them, glitter them, light them, carve them, set out a collection of sizes, and at .09 cents per pound you really can't beat the price.  Alternately there are also some beautiful heirloom varieties available if you don't like the look of the traditional bright orange. There is a rich orangey red and deeply ribbed Cinderella pumpkin, the all-white Lumina, or the buff colored Fairytale variety.
For more fall wedding table centerpiece ideas you can use a sheer strip of gold fabric as a table runner topped with pinecone or acorn wreathed pillar candles. Or tie vertical sticks around the outside of a vase with a great ribbon in one of your wedding colors, and fill with an autumn bouquet. Go with the harvest aspect of this season and fill vases with stalks of wheat, barley, and other grains. Use any type of container to display some fall fruit like a variety of apples in different fall colors.
A few other ideas to bring fall inspiration to your wedding:
Drop leaves instead of rose petals down the aisle.
Use pinecone or miniature pumpkin place holders.
Have a candy display or a make your own s'more bar.
Give guests caramel apples or mulled apple cider packets as favors.
Any or all of these ideas can be used in your fall wedding to celebrate your nuptials as well as the season!