Buddhist Wedding Officiants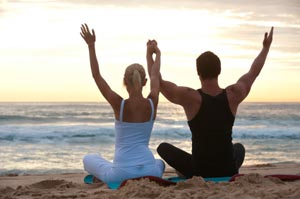 A Buddhist wedding officiant for a wedding ceremony should be a unique reflection of the partners and their values but finding wedding inspiration for a Buddhist wedding is difficult. Not many people know if a Buddhist couple can get married through a Buddhist monk or if a Buddhist officiant has to do anything different than any other marriage. The ULC Monastery believes that Buddhist Wedding traditions can be elegant and beautiful and we wanted to share easy information for planning a Buddhist Wedding Officiant. Marriage is considered a secular affair in Buddhism so there is no specific wedding ceremony. This means the bride and groom really have the freedom to plan their wedding their way. If you're a practicing Buddhist or are intrigued by Buddhism's philosophies, you might find inspiration in its wedding traditions and symbolism.
Common Buddhist Wedding Traditions
The Buddha said relatively little about marriage in his teachings. He did teach, however, that marriage should be based on deep mutual respect for each other, and that it should be a partnership of equals. (There's no "giving away the bride" in a Buddhist wedding.) This can serve as a platform on which to construct a Buddhist wedding ceremony. Couples might also draw from the five Buddhist precepts or other sacred texts. There are many ways to incorporate Buddhist elements into a wedding. Before the ceremony, couples may choose to have their officiant lead them in a hand washing, or water blessing ritual, as a symbol of "coming clean" into marriage. Setting up a shrine in the ceremony space is common. The ceremony could begin with the couple making traditional offerings of water, incense, flowers, fruit, food (often rice) and candles at the shrine. Another common practice is to carry o juju during the ceremony. These strands of 21 beads represent the Buddha, the couple and their families. Some couples add a hand fasting ritual using prayer beads. The wedding with the imagery of the Buddhist eternal knot, representing the interconnected-ness of all creation and the newly found connection between the married couple is also a nice touch.
Because there is no marriage sacrament in the faith, Buddhist monks typically do not perform wedding ceremonies. Couples will often go to a temple to have their marriage blessed after the wedding, but this is a separate ritual from the wedding itself. If you want to have a Buddhist wedding, chances are you will have to find an officiant. A more meaningful choice would be to have a friend or family member step in but first they will have to become an ordained wedding minister.The Universal Life Church provides a free and easy method to become an ordained wedding minister. Ordination in the ULC is completely valid and ULC wedding officiants are legally authorized to perform wedding ceremonies in all 50 states. Ask your friend to visit the Universal Life Church website and click the "Become Ordained" tab. After their ordination request is reviewed and approved, they'll join a worldwide community of ULC wedding officiants, and can perform your Buddhist ceremony. Happy wedding planning!